500 WORDS ON A POWERPOINT SLIDE IS NOT TRAINING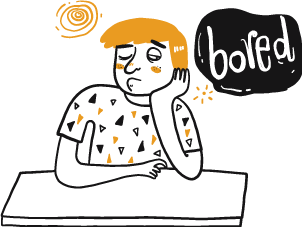 Everyone was asleep.
No one remembered anything.
Management would later say, "but we had a training on that."
Ugh!
Our goal is to make awesome learning. If you're excited when new learning courses drop, we're off to a good start. Geek out with us. We love this stuff!
JD Wonnacott
Head of Learning, WiseDaily.com
Learn something new today!
BITE-SIZED LEARNING
We're huge fans of small, bite-sized pieces of learning. They're usually fun, and quick, and will make you the envy of everyone else.
MEAL-SIZED LEARNING
Sometimes you just need some serious meal-sized learning content. We do that, too. And we may share other resources that might help.
CUSTOM CONTENT
Need something custom just for your organization? Get in touch and let's see if we can help.
CUSTOMER SERVICE
If you run into any issues, give us a holler. We're nowhere close to having all the answers, but we're generally a pretty kind group of folks and love to help.
What we believe
OUR PHILOSOPHY
Malcolm Knowles is the Godfather of adult learning theory (Andragogy)
He didn't invent adult learning theory, but we really, really like his take on things.
(Read the following in your best Godfather voice.)
I want to choose
People want to choose what they're learning about. Crazy concept, right? Forcing folks to learn something new just doesn't cut it.
Does this apply to me?
How is this relevant to me? And we want answers now. Knowing where to go to get those answers makes a huge difference.
Experience matters
Turns out, folks already know stuff. Use it as the foundation for additional learning.
Solves a problem
We're problem-centered learners. That means we learn to solve a particular problem or satisfy a curiosity.
Meet Our Founder
JD Wonnacott
He's tall, bald, and his daughter says he has a nice personality, so he's got that going for him. JD holds a master's degree in business journalsim and has spent most of his career helping people learn and communicate. He's worked for companies of all sizes: Fortune 500 to small non-profits, and he's loved 'em all. He enjoys reading, watching movies, and playing with his four kids. Also sleeping. Loves sleeping. In his spare time, he runs WiseDaily and endeavors to learn something new every day.

EXPLORE OUR COURSES!
Learning makes you happier. Science says so. Take a quick look at courses that'll make you a smarter human...and probably more attractive.
Sweet! Check your email.
If we've done this correctly, you should soon receive your first email. And then you'll get 'em each day, starting tomorrow. Let the daily fun begin! Oh, and you're automatically entered into our
weekly $$ giveaway
.
Before You Go!
Get our free daily nugget that'll make you even smarter. These are fun, quick, and cheeky. Plus, weekly $$
giveaway
.
Well, this is exciting!
You should get a welcome email and a sample of the WiseDaily email newsletter.

We hope you love 'em as much as we do.

Plus, you're automatically entered into our weekly $$ giveaway!